Hugh Hefner Is Living The Life
Looks like Hugh Hefner and Crystal Harris are inching closer to their wedding date which has been set for June 18th of this year. He lives the perfect life doesn't he?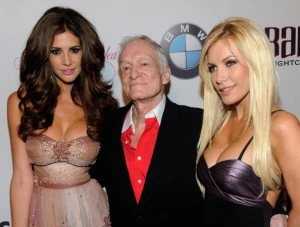 The couple will intimately wed at the Playboy Mansion with the guest list totaling less than 150.
"It will be intimate with a close number of friends here at the mansion. No big blowout affair. Something very personal."
The only left to decide upon is the dress, but sources say Crystal is eyeing a strapless dress by designer Romona Keveza.
Also Hugh Hefner has gotten word that Justin Bieber and his father want to come to the Playboy Mansion. The 84-year-old Hefner revealed this during an interview with CNN's Piers Morgan, after he had told Morgan how he had taken his 24-year-old fiance Crystal Harris to see Bieber's movie "Never Say Never" for Valentine's Day.
Harris added that "all the Playmates" have Bieber fever!