"Godspeed, John Glenn!"
February 20th, marked the 49th anniversary of Astronaut John Glenn's historic 1962 flight aboard the NASA spacecraft Friendship 7 when he became the first American (and third human being) to orbit the Earth. The launch boosted Glenn into space, where he made three successful orbits at 17,400 miles per hour, returning safely home to a national celebration.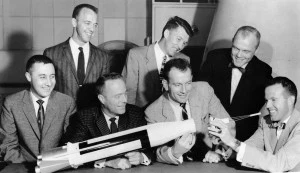 Decades later, in 1998, Glenn ventured into space one more time, at age 77 aboard the Space Shuttle Discovery, to study the effects of space flight on the elderly.
Here's Johns launch of Friendship 7