"Get Yer Ya-Ya's Out" By The Rolling Stones- Classic Album Covers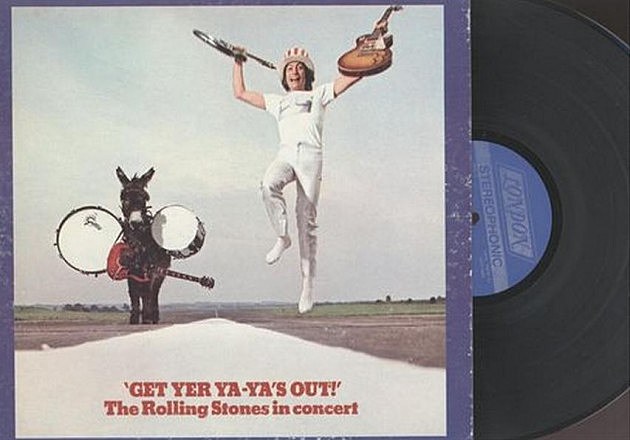 Lets head back to September 4th of 1970. You're just ending your summer vacation. This summer wasn't as exciting as last years was. Last year you saw the moon landing, lived Woodstock, protested the Vietnam War, and ended a decade of incredible music. You need something to get you through this fall, and The Rolling Stones have your back.
'Get Yer Ya-Ya's Out!' The Rolling Stones in Concert was a live album by The Stones, released 4 September 1970. It was recorded in New York and Maryland in November 1969, just before the release of Let It Bleed. It is the first live album to reach number 1 in the UK. How was this album born?
Having not toured since April 1967, The Rolling Stones were eager to hit the road by 1969. With their two most recent albums, Beggars Banquet and Through the Past, Darkly (Big Hits Vol. 2) being highly praised, audiences were anticipating their live return. Their 1969 American Tour's trek during November into December, with Terry Reid, B.B. King (replaced on some dates by Chuck Berry) and Ike and Tina Turner as supporting acts, played to packed houses. The tour was the first for Mick Taylor with the Stones, having replaced Brian Jones shortly before Jones' death in July; the performances prominently showcased the guitar interplay of Taylor with Keith Richards

Some of the performances, as well as the photography session for the album cover featuring Charlie Watts and a donkey, are depicted in the documentary film Gimme Shelter, and shows Jagger and Watts on a road in Birmingham, UK in early December 1969 posing with the donkey. The actual cover photo however was taken in early February 1970 in London, and does not originate from the 1969 session. The photo, featuring Watts with guitars and bass drums hanging from the neck of a donkey, was inspired by the lyrics to Bob Dylan's "Visions of Johanna" (although these lyrics refer to a mule)."
Track Listing
Side one
No.      Title
1.         "Jumpin' Jack Flash"
2.         "Carol"
3.         "Stray Cat Blues"
4.         "Love in Vain"
5.         "Midnight Rambler"
Side two
No.      Title
6.         "Sympathy for the Devil"
7.         "Live with Me"
8.         "Little Queenie"
9.         "Honky Tonk Women
10.       "Street Fighting Man"
Subscribe to 96.1 The Eagle on