Finding Nemo Getting Tougher… Orange Clown Fish Nearing Endangerment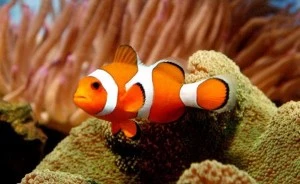 Remember when Marlin, Nemo's dad was a bit over-protective by not letting his boy leave the anemone in the Disney/Pixar film? Well those dangers he was afraid of are proving well justified and echoing in reality far beyond the silver screen as the consequences of 'touching the butt' carry a much more severe penalty these days: possible extinction.Just a few days after Finding Nemo: 3D hit theaters a petition was filed to place the beloved 'Nemo-fish' and a few of it's other reef buddies on the protected endangered species list.
"We risk losing the striking fish that inspired 'Finding Nemo' forever if we don't put the brakes on global warming and ocean acidification," said Shaye Wolf, climate science director with the Center for Biological Diversity. "Carbon pollution harms these fish and destroys their coral reef homes. If we want these beautiful animals to survive in the wild, not just in a movie, we have to protect them under the Endangered Species Act… Coral reefs are the rainforests of the ocean, but carbon pollution will bulldoze their biodiversity," Wolf said. "The longer we wait to provide Endangered Species Act protection and reduce the greenhouse gases harming reef fish and destroying their homes, the harder it's going to be to save these unique creatures."
Due to the fact that these fish are so visually appealing, another threat to them is that they are highly sought after as aquarium pets and are not only harvested from their natural habitat to satisfy demand but they aren't always placed in environments that are conducive to their survival (tongue in cheek example: the dentist's daughter in the movie.) So, if you've got one in your home or office, take extra care now. It may take quite some time before the petition to save this species is enacted, so it looks like it's up to us until the paperwork goes through. Hopefully we can help these little guys to 'just keep swimming' for a long time to come.
Subscribe to 96.1 The Eagle on