Drink A Tequila Sunrise Mixed Drink Inspired By The Classic Eagles Track
Let's take a trip back to 1973 for a moment… what was on your radio? The Eagles classic tune "Tequila Sunrise". Did you know you could actually drink one? 
A Tequila Sunrise is a drink made with Tequila and orange juice. Some grenadine is poured on top to create the red and orange colors of a sunrise."
So the real question is what "Tequila Sunrise" is better…
The Drink
Subscribe to 96.1 The Eagle on
The Song
Subscribe to 96.1 The Eagle on
I think they both sound amazing.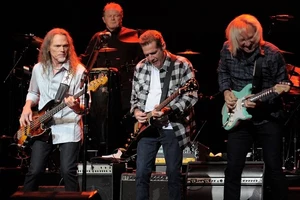 One of these nights, the 'History of the Eagles ' tour will be history itself, but that night won't be coming for awhile yet: the band has just added a dozen more shows to its upcoming sojourn.