2014 Classic Car Shows Around New York State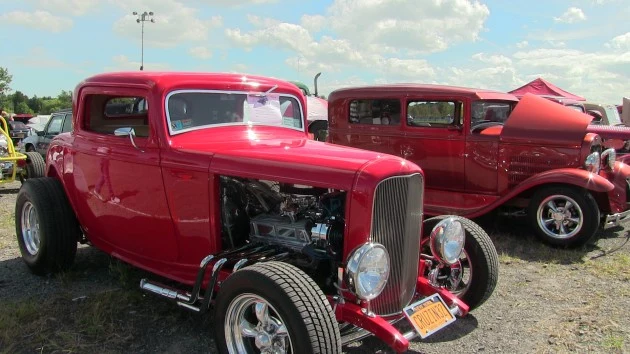 Of course we are gearing up for the 2014 Cruise-In Season here at Oldiez 96.1, and car shows all over the state are gearing up! Here's a schedule of events around New York State.
May
17th: 7th Annual Arlington Car, Truck, and Bike Show in Lagrange.
25th: Rolling Antiquer's Antique Auto Show at the Chenango County Fairgrounds in Norwich.
25th – 26th: 48th Annual Norwich Car Show in Norwich.
31st: Tamarac Plaza Car & Truck Show in Troy.
June
1st: Oneida Lake Region AACA "Show in the Shade" in Clay Park in Clay.
7th: Cambridge Lions Balloon Festival Car Show in Cambridge.
7th: Kruising Knights Car Show in Central Square.
7th: Spring Corvette Cruise-In in Ballstone Lake.
15th: Howe Caverns Annual Father's Day Car Show.
15th: EuroCar 2014 in Cazenovia.
15th: 40th Annual Reminiscers' Car Show in Oneonta.
22nd: All Ford Car Show in Liverpool.
22nd: 32nd Annual All Make, Model and Year, Classic Car, Truck and Motorcycle Show in Latham.
27th – 29th: Bouckville Classics Car Show in the Village of Bouckville.
29th: CNY Mopars Show at Longbranch Park in Liverpool.
July
6th: Sawyer Motors Car Show in Saugerties.
12th: Belvedere Lake Car Show in Cherry Valley.
13th: Annual Curtis Lumber Car and Truck Show in Ballston Spa.
20th: New York Power Authority Antique & Classic Car Show in Blenheim.
18th – 20th: Right Coast Cars Association Syracuse Nationals at the New York State Fairgrounds.
August
3rd: Annual Lion's Club Antique & Classic Car Show in Richfield Springs.
3rd: 22nd Annual Ticonderoga Area Car Show in Ticonderoga.
9th: Fingerlakes Region AACA History on Wheels Show in Auburn.
10th: The Wanderer's Car Club Annual Car & Swap Meet at Wilber Park in Milford.
16th: Motorfest 2014 at Vernon Downs in Vernon. 
31st: 32nd Annual Olympic Car Show & Parade in Lake Placid.
September
4th – 7th: Adirondack Nationals in Lake George.
7th: Mohican Model A Ford Club Annual Antique & Classic Car Show at the Fireman's Field in Wampsville.
14th: Cortland Antique Auto Club Show Dwyer Park in Little York.
14th: Rose's Performance Car Show Rose's Performance in Schoharie.
21st: Shriner's Car Show Dodge City Speedway in Howes Cave.
28th: Otego Car Show in Otego.
October
5th: Sidney Car Show Sidney Airport in Sidney.