Beach Boys Set to Release 'Smile'
SMiLE…Released At Last!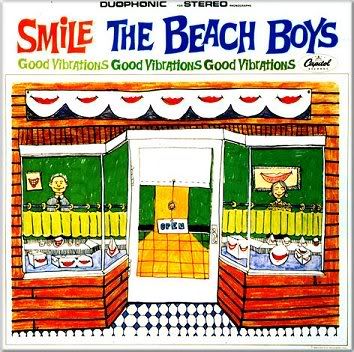 Being around for 50 years as a band…fragmented as it may be…is one heck of an accomplishment. Getting the surviving members of that band to all agree to release an album is another accomplishment. But the biggest accomplishment of them all…that this may be the most widely anticipated album in their illustrious career.
On Tuesday, the Beach Boys will finally release what Rolling Stone magazine has called one of the greatest lost albums of all time: SMiLE.
The album is technically being called "The Smile Sessions", as parts of it was never fully recorded or at least mixed, until now, to be released. The album is to be released in a 2-CD package. A limited edition box set will comprise 5 CDs, 2 LPs, 2 45rpm singles and a 60 page booklet and there will also be a digital download version.
The first 19 tracks is what is going to be widely considered SMiLE, with the remainder of the material bonus tracks and extras taken from the epic 1966-67 recording sessions.
The story behind SMiLE is one of fairytale. Brian Wilson heard The Beatles album "Rubber Soul" and was impressed with it as a whole. He sought to create an album which he deemed as good, if not greater than "Rubber Soul" His response was the acclaimed Beach Boys album "Pet Sounds". The Beatles responded by releasing "Sgt. Pepper's Lonely Hearts Club Band" while Brian was in the middle of recording an album originally titled "Dumb Angel"…which then was changed to the working title "SMiLE". Legend has it that after Brian heard "Sgt. Pepper", he felt alot of pressure to try to match it. The combination of Wilsons drug consumption, pressure to complete the album from record label Capitol Records, pressure to produce music to a bar Wilson set too high for himself, and fighting about the album from within the band led Brian to shelve the project completely.
Some of the tracks intended for release on "SMiLE" did see the light of day in latter Beach Boy releases. "Good Vibrations", "Heroes and Villians" were released as singles and versions of "Our Prayer", "Surf's Up", "Cabinessence", and "Cool, Cool Water" were released later on.
Fast forward now to 2004. With a new band, Brian revisited the SMiLE years and released "Brian Wilson Presents SMiLE". This gave listeners and fans the best blueprint of what might have been in a modern version…all parts rerecorded with the new band. It was critically acclaimed and fueled the fire of what might have been had the Beach Boys version came out in 1967. Many speculated that it would have been called a masterpiece, better than "Sgt. Pepper", and changed the musical landscape as it was known back then.
On Tuesday, we will finally get to hear as complete a version of the album as possible. A Beach Boys version. And it will leave people to both enjoy and shake their head and still wonder what might have been.
Contributed by Jon Meyer