Amare Stoudemire Loses Brother Leaves Knicks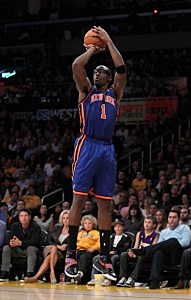 New York Knicks' superstar Amare Stoudemire will not be in the starting lineup tonight as the forward takes a leave from the team to deal with the death of his brother. 35-year-old Hazell Stoudemire was killed in an early morning freeway accident in Florida. According to the Sun Sentinel:
Hazell Stoudemire, 35, of Lakeland was traveling north on U.S. 27 south of County Road 17A just before 2 a.m. when his 2007 Cadillac Escalade collided with the back of a tractor trailer driven by Rupert A. Fairclough of Auburndale, troopers said. – SunSentinel.com
The Knicks say that Stoudemire will be away from the team for an undetermined amount of time as he and his family deal with their tragic loss.